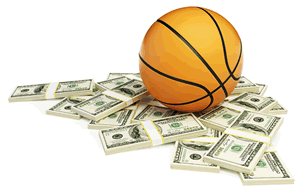 This is one of the biggest issues for beginners who are just starting to dip their toes in the daily fantasy waters. Most of them start out by playing tentatively. They join an occasional NBA contest and draft a single roster, fearful of losing their entry fee.
But at some point, they get bit by the DFS bug. Their casual interest morphs into something bigger as they learn the ropes and log a few wins. Many of them go from being a one-contest-per-night hobbyist to a multiple-contests-per-night enthusiast.
When that transformation happens for you – and it will eventually – it's time to consider creating multiple lineups. Doing so will give you the best possible chance of locking down a profit on any given night.
The key is to use a smart strategy when building your daily NBA lineups. That's what we'll cover below. Before we get to the juicy details, however, let's take a look at why you'd want construct multiple rosters in the first place.
Using One Lineup Across The Board: Win Big, Lose Big
Many DFS players create a single roster and use it in every contest they join. They pour their time and effort into building that lone lineup. Confident they've made excellent draft picks, they figure "if it's good enough to win one contest, it's good enough to win several."
That assumption may indeed be the case. If they manage to draft one or two studs who log 60+ points, and fill the other slots with scrubs who explode, they can easily cash across the board. That kind of roster can deliver a huge win.
But that type of alchemy rarely happens. More often than not, their lone lineup fails to break out. Instead of winning across the board, they lose all the money they put in play.
The Folly Of Using One Lineup In Multiple Contest Formats
As if pinning one's hopes on a single roster weren't bad enough, many team owners go one step further. They create a single roster and use it in different types of contests. They'll draft one set of players and roll with it in double-ups (50/50s), head-to-heads (H2Hs) and large-field tournaments.
That's madness.
There's a world of difference between cash games and big tournaments. The former tend to be safer. You can break into a top spot with a solid core of 1st-tier players and a few promising 2nd-tier players.
Tournaments are a different animal. They're far more difficult to win. A much smaller percentage of the field cashes, which means you need your draft picks to deliver breakout performances. You need your primary scorers to dominate the key while your other players log an above-average tally of steals, assists and rebounds.
A daily NBA lineup that grabs a top spot in a 50/50 can easily get trounced in a guaranteed prize pool (GPP) tourney.
Benefits Of Using Multiple Daily Fantasy NBA Lineups
Let's say you're convinced that you should construct more than one roster for each evening's slate of games. Think about the advantages you'll enjoy…
First, you'll benefit from diversification. Instead of pinning your hopes on a single raft of players, and risking all of the cash you have in play, you'll significantly dilute your risk. Diversification allows you to abandon the "all-or-nothing" approach to daily fantasy that dooms so many team owners.
Second, you can build roster configurations that leverage players who have a low percentage of ownership across the field. Drafting the same players as your opponents will only prevent you from breaking away from the pack. Building multiple lineups gives you a chance to incorporate lightly-owned, high-upside players.
Third, you can test various player combinations. Keep notes on how your draft picks perform so you can identify your mistakes, adjust your strategy and improve your long-term results.
I'm not suggesting that creating multiple lineups in fantasy basketball is all roses and rainbows. There are drawbacks. For example, putting together different roster configurations takes more effort. It also makes tracking your results more time-intensive.
But those drawbacks should actually put a smile on your face. Why? Because a lot of your opponents will be too lazy to put in the necessary work.
Daily Fantasy NBA Strategy: Three Steps For Beginners To Follow – The Art Of Diversification
You know the value of diversification. But fools rush in. There's an art to doing it right. Let's go over the most important facets of building a portfolio of diverse rosters.
We noted above the differences between cash games and large tournaments. Safe, solid lineups are more effective for the former. High-upside lineups are more effective for the latter.
With that in mind, here's how to diversify your cash game rosters…
First, draft two studs.
Second, draft one solid cheap option. Start your search by reviewing the most recent injury report. Identify hurt players and look for their substitutes.
Third, fill out the rest of your roster with safe, consistent players. They may not look like bargains, but that's okay. You're paying for reliable production. Diversify by testing different combos of consistent players. Keep your two studs and cheap option intact.
Here's how to diversify your fantasy NBA rosters in large-field tournaments…
First, draft at least one heavily-owned stud. Having him in your roster will prevent you from falling too far behind the rest of the field if he performs as expected. Second, fill the rest of your lineup with lightly-owned, boom-or-bust players.
Diversify by picking different combos of lightly-owned players. That gives you a lot of freedom. On any given night, you'll see dozens of value plays that could potentially help your roster break into the top of the field. Look for cheap options who have a ton of upside potential. Don't be turned off by the fact that only a small percentage of the field owns them. That's part of their value.
Those two diversification plans, one for cash games and one for tournaments, are just rough guides. Use them as a springboard for your own strategy. Just like there are countless ways to diversify an investment portfolio, there are countless ways to diversify your daily fantasy NBA rosters.
How Much Diversification Is Too Much In Fantasy NBA?
Is there such a thing as too much diversification? In a word, yes!
When it comes to creating multiple NBA lineups, there are two crucial concepts to keep in mind. First, you have a limited bankroll. Second, there's a point at which it's possible to diversify away your chances of making a gloat-worthy profit.
Let's first talk about your bankroll. Unless you're a high-roller, you only have so much money to put at risk. That being the case, it's a good idea to stick to the lower-stakes games, at least until you start logging consistent wins. By entering contests with low entry fees, you'll be able to diversify your lineups without committing too much of your cash to any single one.
Here's an important takeaway in daily fantasy lineup construction: the purpose of diversification is to reduce your risk of loss, not eliminate it entirely. There are zero opportunities to make a profit in DFS without taking on at least a modicum of risk. Spreading yourself too thin – that is, reducing your risk to zero – exposes you to another problem: the loss of potential returns.
For example, let's say you want to put $200 in play tonight. Here are some of your options:
– enter 1 contest with a $200 entry fee
– enter 8 contests, each with a $25 entry fee
– enter 40 contests, each with a $5 entry fee
– enter 100 contests, each with a $2 entry fee
– enter 200 contests, each with a $1 entry fee
Joining a single $200-entry-fee game doesn't give you nearly enough diversification. It's like betting on a single number in roulette. It's very risky, even if you do thorough research.
Conversely, joining 200 $1-entry-fee games gives you too much diversification. It's like betting on every single number in roulette. Your chances of winning are high. The problem is, your winnings are going to be offset by your losses.
How much diversification is too much in daily NBA contests? Unfortunately, there's no simple answer. Think about how people diversify their stock portfolios. Some folks own 5 stocks. Others own 50. Still others invest their money in mutual funds that own thousands.
The ideal amount of diversification in your fantasy basketball lineups will depend on your aversion to risk. If you're the type who thrives on uncertainty and habitually throws caution to the wind, you might be comfortable creating only 2 lineups and jumping into high-stakes contests. If you're risk-averse, you'd be better off creating 10 to 15 solid lineups and entering the lower-stakes games.
There's no way I can define the perfect formula for you. Any such formula will depend heavily on your willingness to take chances with your cash.
Stick To One Or Two Daily Fantasy Sites To Lower Your Risk
Any discussion of diversification in daily fantasy sports would be incomplete without a mention of playing on different DFS sites. There are good reasons to spread out to multiple sites once you've learned the ropes and developed a track record of consistent wins. But diversification isn't one of them.
There are so many daily fantasy NBA contests hosted  at the big DFS sites that you can achieve optimal diversification by sticking to those two sites alone.
Here's my advice: pick one of those two sites and become deeply familiar with every aspect of it. Get accustomed to the site's lineup requirements and scoring system. Learn the approximate number of points you need in order to win both cash games and tournaments.
When you're ready to spread your wings, register at the other site – either FanDuel and DraftKings – and go through the same process. There's no reason to spread yourself thin by playing at several sites, especially if you're just getting started in DFS.
TL;DR To summarize, it's always a good idea to create multiple lineups in daily fantasy basketball. Roster diversification is a key to lowering your risk and maximizing your chances of winning. But take care to avoid over-diversification that limits your potential to make a consistent, rewarding profit.
More Awesome Content From DailyFantasySports101.com and around the web